Talking Robots for Sale Cute Decoration Tree Tree Robot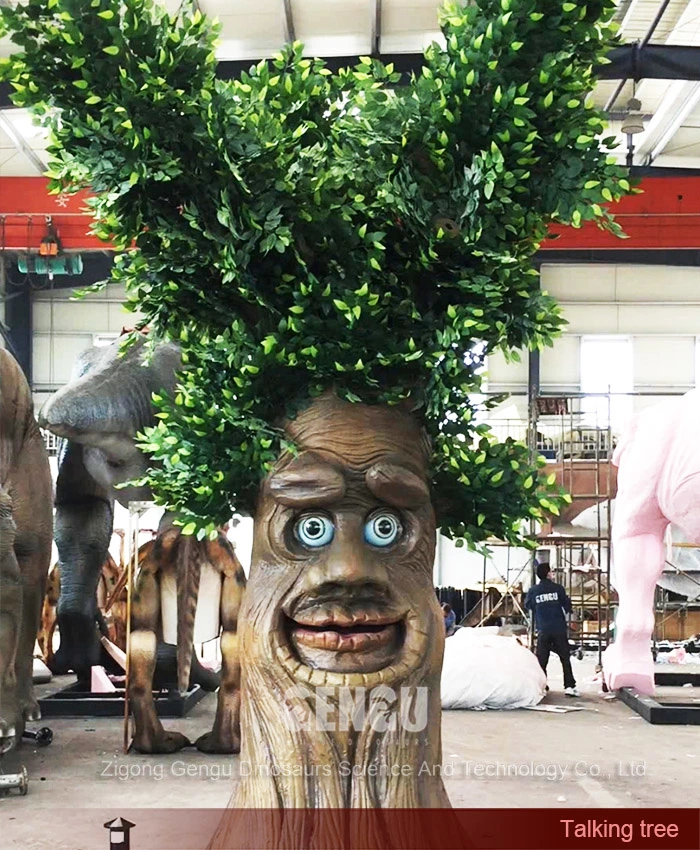 Product Description
Sound
Talking as edited programme or custom programming content.
Movements

(Animatronic dinosaurs)
1. Mouth open and close.
2. Talking as edited programme.
3. Eyes blinking.
4. Branch swing.
Main Materials
1.Electric parts,steel frame,foam,oil paint etc.(Animatronic dinosaurs)
2.Fiberglass (Still dinosaurs,skeletons,fossils)
Power
110/220V, AC, 200-800W.(Animatronic dinosaurs)
Control Mode
Infrared sensor, Remote control, Coin operated, Timer system
Certificate
CE,ISO,BV,TUV,SGS
Size&Color
Any size and color is available,Customers can customize all kinds of
dinosaurs

Usage
Attraction and promotion. (amusement park, theme park, museum, playground, city plaza, shopping mall and other indoor/outdoor venues.)
Work Processes
1. Control box: Independently developed fourth-generation control box.
2. Mechanical Frame: Stainless steel and brushless motors have been used to make dinosaurs for many years. Each dinosaur's mechanical frame will be continuously and operationally tested for a minimum of 24 hours before the modelling process begins.
3. Modelling: High density foam ensures the model looks and feels of the highest quality.
4. Carving: Professional carving masters have more than 10 years of experience. They create the perfect dinosaur body proportions absolutely based on dinosaur skeletons and scientific data. Show your visitors what the Triassic, Jurassic and Cretaceous periods really looked like!
5. Painting: Painting master can paint dinosaurs according to customer's requirement. Please provide any design.
6. Final Testing: Each dinosaur will also be continuous operated testing one day before shipping.
7. In Stock: We keep more than 20 sets dinosaurs in stock for choice.
8. Packing & Shipping: Bubble bags protect the dinosaurs from any damage from transit. PP film fix the bubble bags. Each dinosaur will be packed carefully and with particular focus on protecting the eyes and mouth.
9. On-site Installation: We also send engineers to customer's place to install dinosaurs.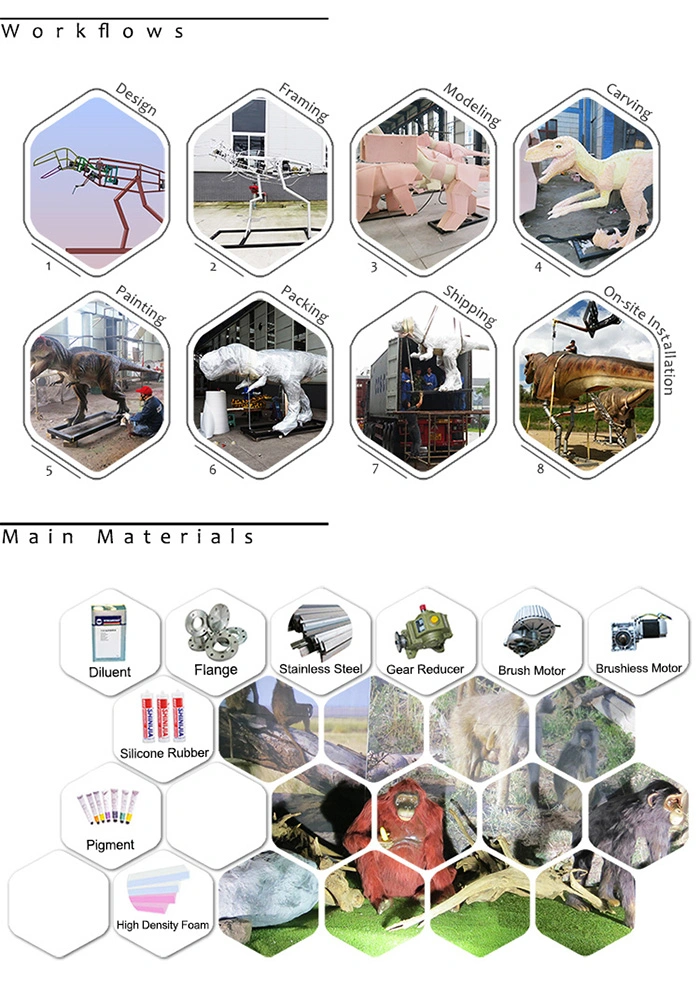 The below photos display the main accessories. In addition to the above, we can provide supplementary items to really bring your attraction to life, such as:fibreglass rocks,game coins,coin boxes,artificial trees / grasses,fences,LED lights,background painting,and much more!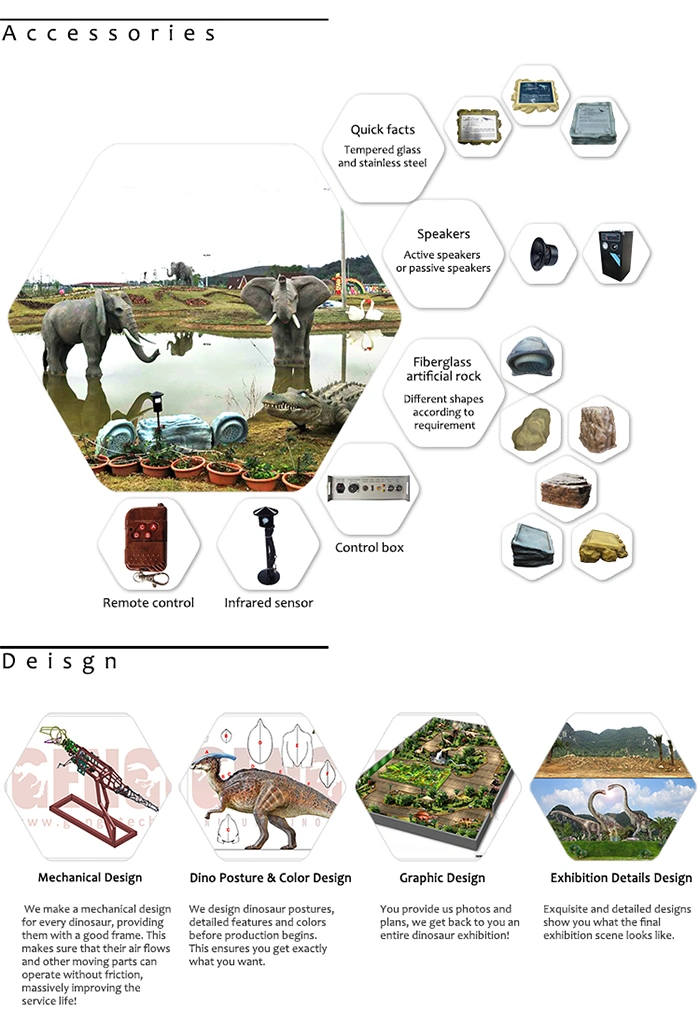 1. We also provide plan design, dino facts designs, advertisement designs, etc.
2. After Service: 24 months include installation, maintenance, supply accessories, disassembly & reinstallation.
3. Warranty parts: Dinosaur (whole body) and accessories.
4. Technology: Excellent and top of the range control system with brushless motor, more sensitive infrared sensors.
1. Packing: Bubble bags protect dinosaurs from damaging. PP film fix the bubble bags. Each dinosaur will be packed carefully and focus on protecting eyes and mouth.
2. Shipping: Shenzhen, Chongqing, Shanghai, Qingdao, Guangzhou,etc. We accept land, air, sea transport and international multimodal transport.
3. Clearance: Our long history makes us the one of the first and most knowledgeable providers of dinosaur equipment. Our customer base spans 6 continents! Only Antarctica left. More specifically, our main customers hail from; Canada, the United States, Brazil, Argentina, Japan, Philippines, Australia, Russia, Thailand, the UAE, Poland, Spain, Germany, Croatia, etc.
Company Information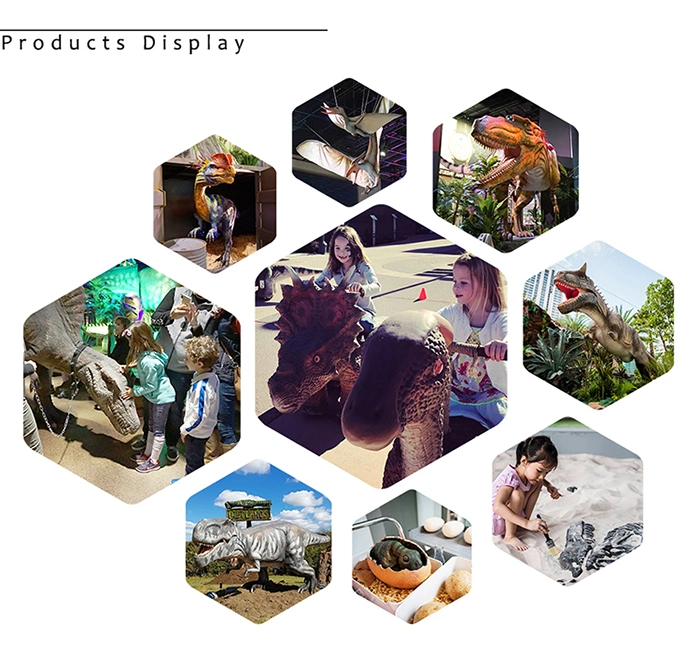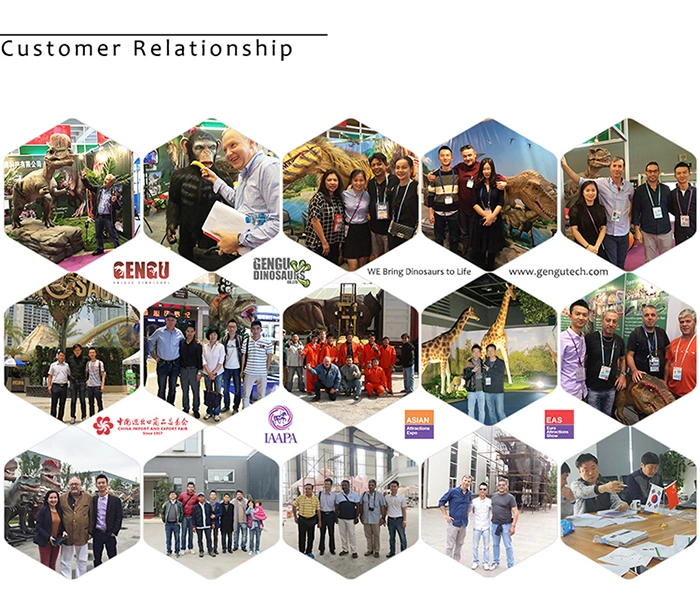 1. We always welcome customers to visit our manufacturing factory and get to know more about us.
2. Customers can see all the dinosaur manufacturing workflows when they visit our factory.
3. We also send engineers to the customer's place to help with the installation!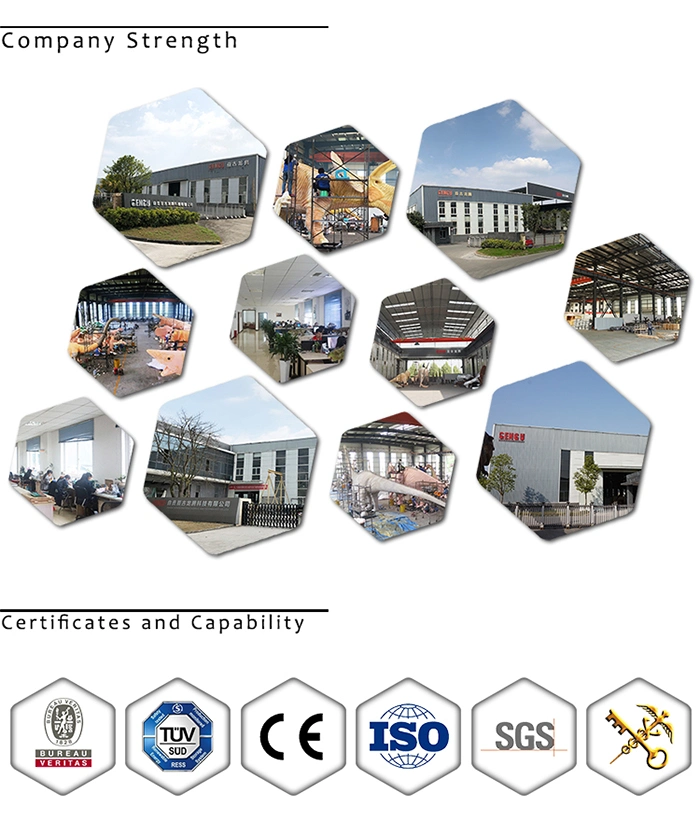 Zigong Gengu Dinosaurs Science & Technology Co., Ltd. (hereinafter referred to as "company")was established in early 2007, which is located in the hometown of dinosaurs--High and New Technology Industry Development Zone, Zigong City, Sichuan Province, and it is an integrated technology enterprise specialized in emerging technology product design development,manufacture,sales and foreign exhibition,and focusing on research and development of animatronic dinosaurs, simulation animals and insects, dinosaur fossils and skeletons, artificial ancient plants,buried excavation field and walking dinosaur garment and other simulation products,and it has become a leading enterprise in the industry now.