Intelligent Autonomous Navigation Automatic UV Medical Disinfection Robot
Product of ultraviolet Disinfection spray Robot introduction:
1.Intelligent ultraviolet disinfection lamp is highly efficient, safe and pollution-free
effectively reducing the probability of cross-infection.
2.Remote intelligent control, customize the disinfection time, automatically start the disinfection robot, and carry out the disinfection task automatically at the specified time, free of setting and maintenance.
3.Simple installation and deployment, independent disinfection path planning, real-time monitoring of operation data, to avoid disinfection failure caused by radiation intensity attenuation.
4.In the use of ultraviolet disinfection robot for indoor disinfection, should avoid personnel close to the robot, so as not to cause ultraviolet damage to the skin and other problems.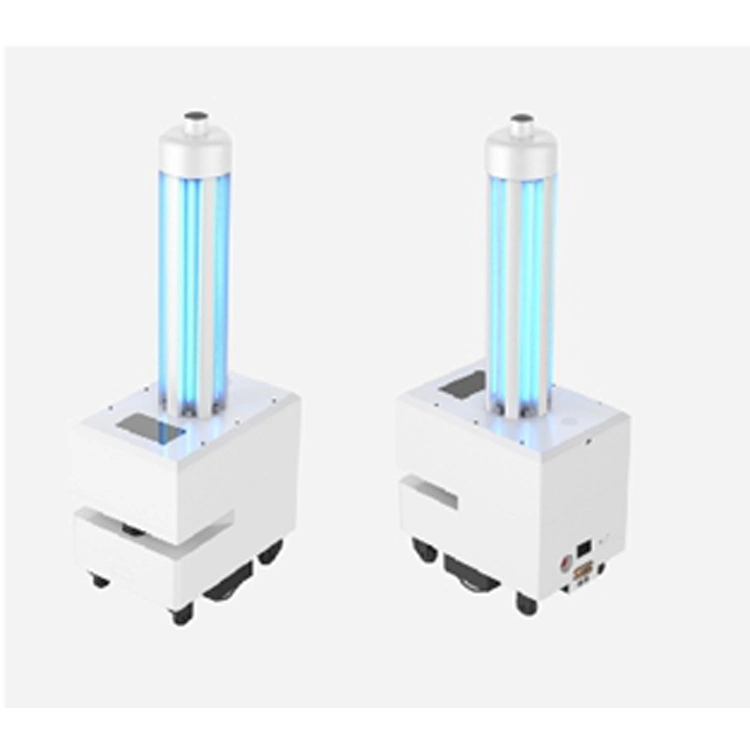 | | |
| --- | --- |
| | |
| | |
| | Effective sterilization and disinfection of more than 99.9% |
| | 2.5~3 hours (independent charging, unlimited battery life) |
| | |
| | 180W(30W/ root, total 6 roots) |
| | |
| | |
| | 540mm(L)*360mm(W)*1536mm(H) |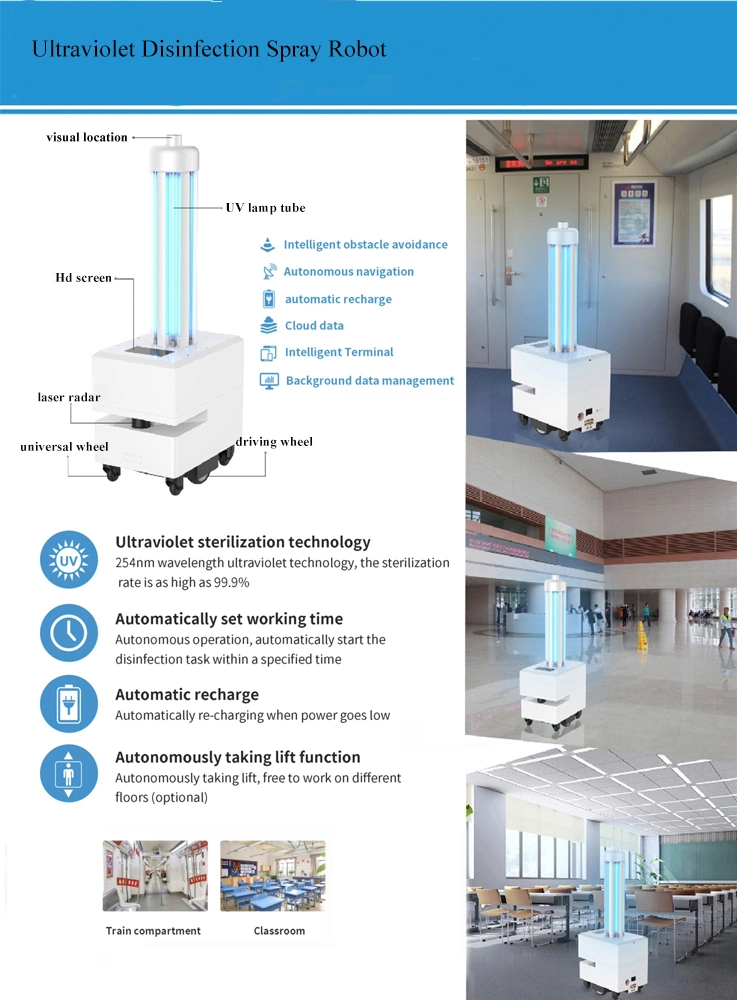 Ultraviolet disinfection robot is a highly efficient disinfection products, environmental protection as one of the first government is the most effective ways of disinfection efficiency, broad spectrum, thoroughness, no drug resistance, and no secondary pollution and other significant potential, can be used in hospitals, shopping centers, restaurants, subway car, nursing homes, kindergartens, schools and other places.
Customize the working hours
Set a time to automatically turn on disinfection Multi-mode indoor driverless technology
VSLAM+ light SLAM flexible collocation, stable operation Super long endurance The whole machine lasts about 3 hours Globally unique remote
convenient deployment capability Remote automatic deployment, convenient and efficient Automatic return charge If the battery is too low, it will return to charging automatically Self-access elevator (extensible) Can be linked with the ladder control system, cross floor work, more worry

TYPICAL APPLICATIONS: Shopping mall,Exhibition hall,Bank hall,Government hall,Airport, train station, subway station,School, library, gymnasium,Others indoor environment.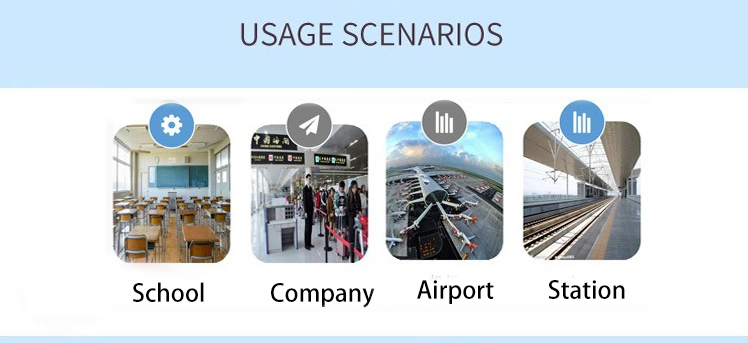 1. Wooden Case for outside packing.
2. Packing Size: 670 * 600 * 1770 mm
3. Packing Weight: 98 kg