HCNC parallel linear Delta robot is suitable for rapid sorting and packing,picking and placing in various industries. They integrate intelligent visual recognition functions and have good dynamic tracking functions, which can meet most of the scenes that require rapid sorting. DT_Catch software integrates vision setting, tool setting, trajectory setting, palletizing module, and calibration module into one module, which is easy for operation. Relying on the mature motion control technology of Huazhong CNC for many years, it ensures the precise positioning and stable operation of the robot. The key moving parts adopt imported mature brands to ensure service life.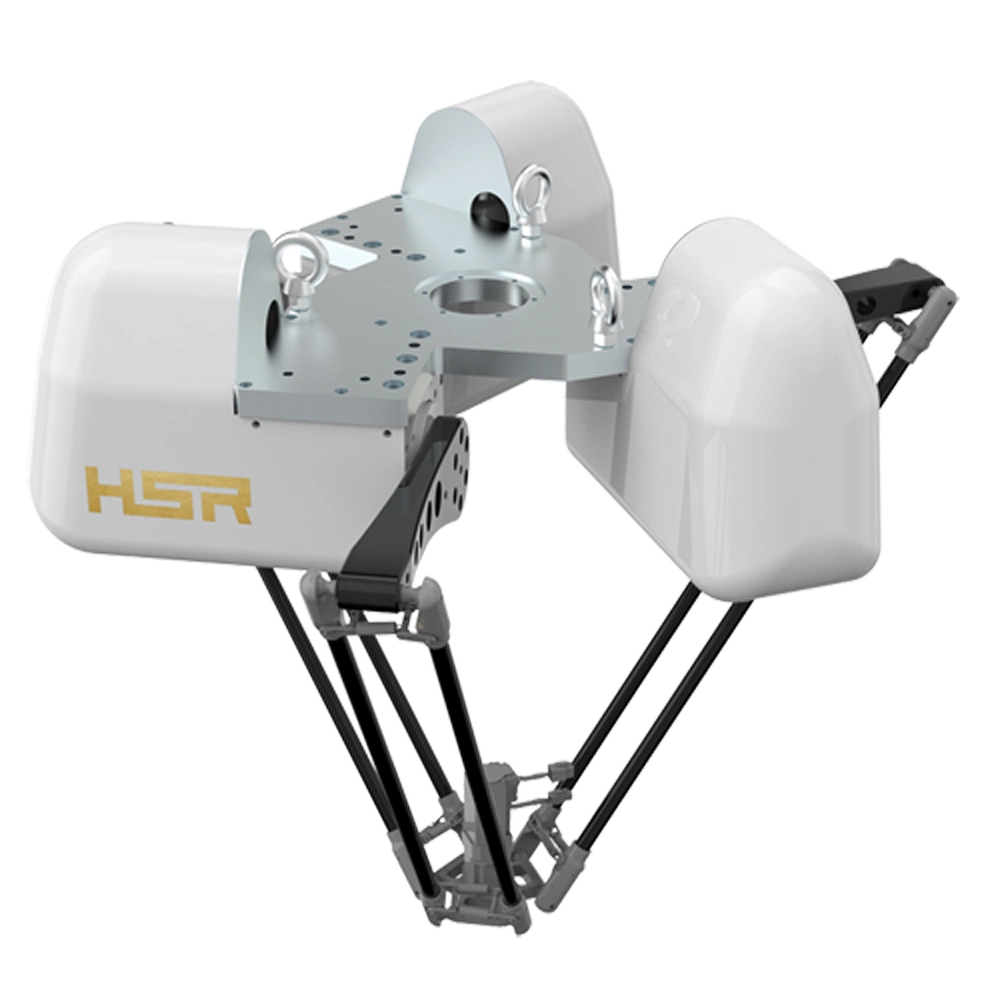 1. Precise positioning: repeat positioning accuracy up to 0.1mm.
2. Visual intelligent recognition: the robot can be equipped with a vision system, which can recognize and accurately locate the shape, feature, and posture of the target object.
3. Conveyor belt dynamic tracking: dynamically capture the visually recognized target, greatly improving the grasping efficiency.
4. High speed: capture rate is up to 180 times per minute
Model

HSR-DT803

Model

3

3+1(Direct motor connection

)

Load

3kg

3kg

Max. working radius

400mm

400mm

Maximum pick and place height

300mm

300mm

The fourth axis rotation angle

/

±360°

Repeatability

±0.1mm

±0.1mm

Beats per minute

(

25mm-305mm-25mm

),

0.1kg

180

180

Voltage

380V

380V

Power

3200W

3300W

I/O connectors

Digital

:

24input

,

16output

Digital

:

24input

,

16output

Communication connectors

Network port: 1 Ethercat interface: 1

Network port: 1 Ethercat interface: 1

Communication method

TCP/IP

,

MODBUS TCP

TCP/IP

,

MODBUS TCP

Reserved signal cable

10 bits (terminal block connection)

10 bits (terminal block connection)

Reserved gas tube

No

No

Robot weight

114kg

124kg

Installation method

Hoisting

Hoisting

Control cabinet weight

38kg

40KG

Control cabinet size

575

(

width

)

×352

(

thickness

)

×530

(

height

)

575

(

width

)

×352

(

thickness

)

×530

(

height

)

Robot-cabinet connection cable length

5m

5m

Cable length of teach pendant

No teach pendant

No teach pendant

Environment humidity

20%-85%

20%-85%

Ambient temperature

0-45

ºC

0-45

ºC

Body protection level

IP54

IP54

Control cabinet protection level

IP53

IP53
Range of motion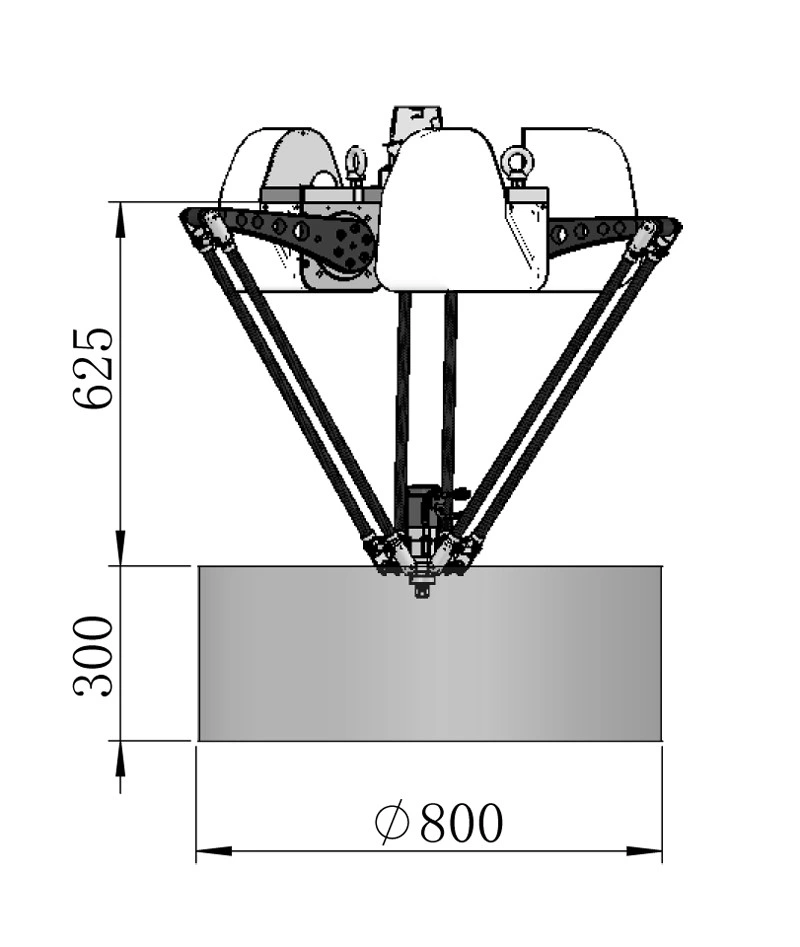 Mounting holes of DT803 robot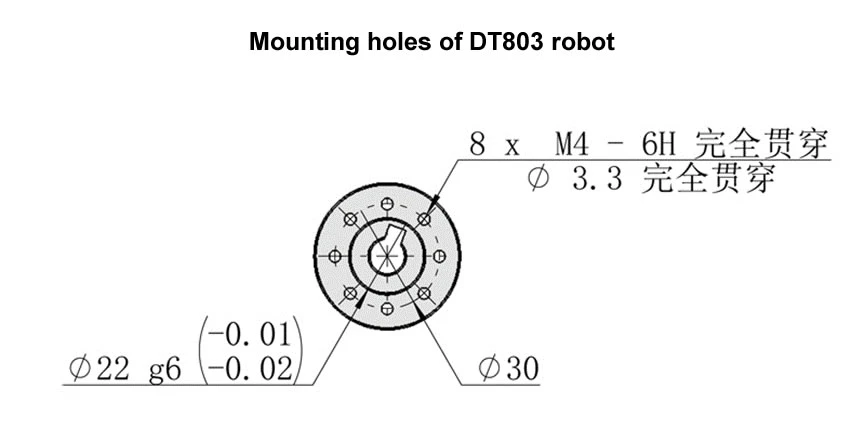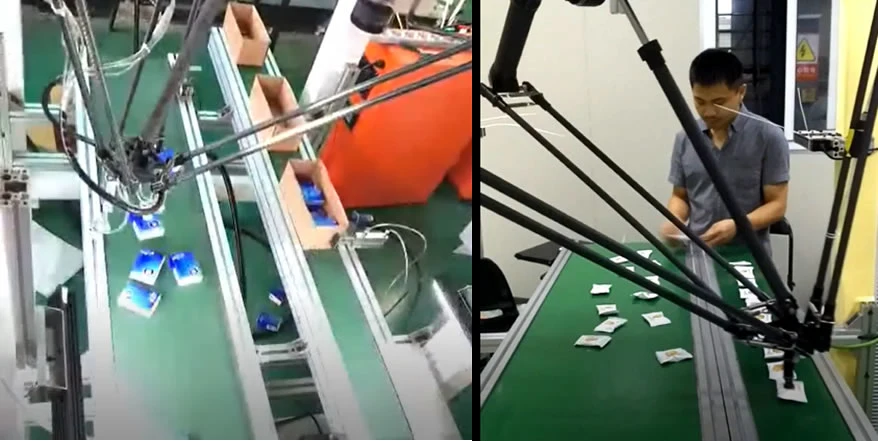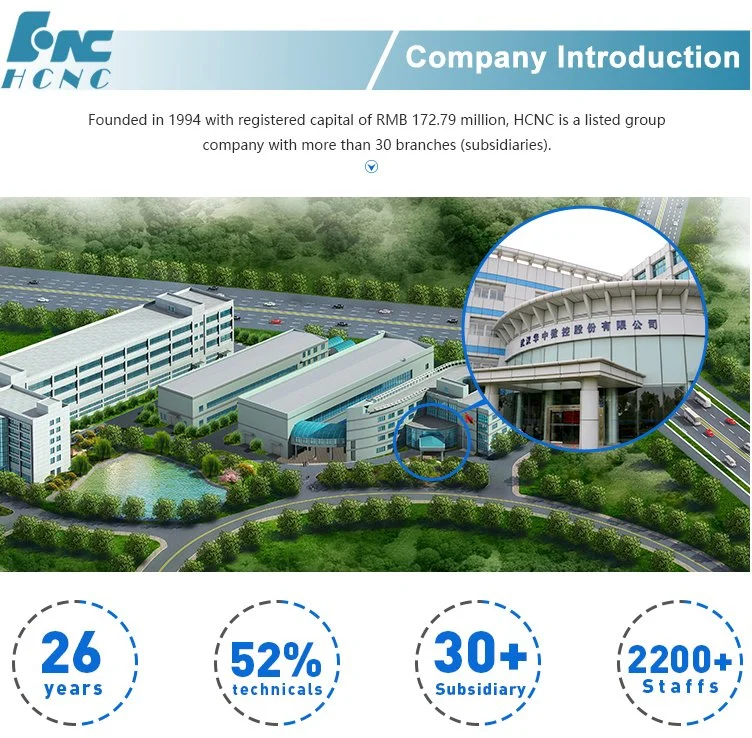 Wuhan Huazhong Numerical Control Co.,Ltd. (hereinafter as HCNC) was established in 1994 and became a listed enterprise in Shenzhen Stock Market with more than 30 subsidiaries all over the China. HCNC, headquartered in Wuhan, is the leading supplier and manufacturer of CNC machine tools, CNC controller, servo drive, servo motor, industrial robot, new energy vehicle, and matching components.
Huashu Robot is one of those subsidiaries of HCNC. It focuses on the research and development, manufacturing, application and service of industrial robot products. It is the best engineering contractor for robot automation solutions and the best provider of intelligent manufacturing and overall solutions of smart factory. It has 9 subsidiaries in Foshan, Chongqing, Shenzhen, Dongguan, Ningbo, Suzhou, Quanzhou, Jiangyin, Nanning, and 4 research institutes in Foshan, Chongqing, Quanzhou, and Changzhou, covering major areas all around China. The annual production capacity is 10,000 sets of industrial robots.

Huashu Robot fully implements the "PCLC" development strategy. At present, we have mastered 4 core key components of industrial robots, and have 6 series of more than 40 robots. They have continuously achieved breakthroughs in household appliances, electronics, hardware, automobile and motorcycle, kitchen and bathroom, shoemaking, lithium batteries, solar energy, and FMGG logistics. Our market influence has expanded rapidly, and they already have the ability to compete with famous international robots brands.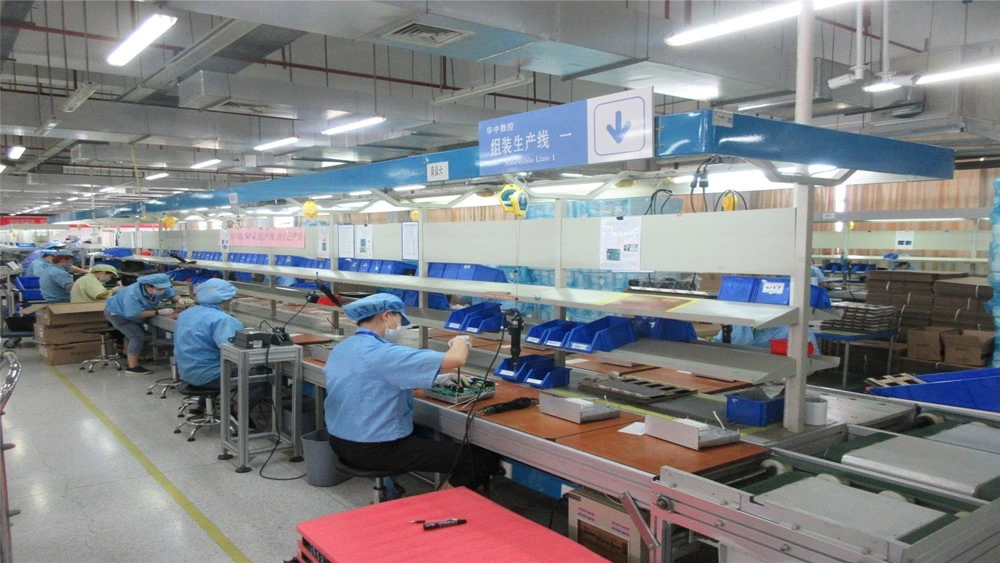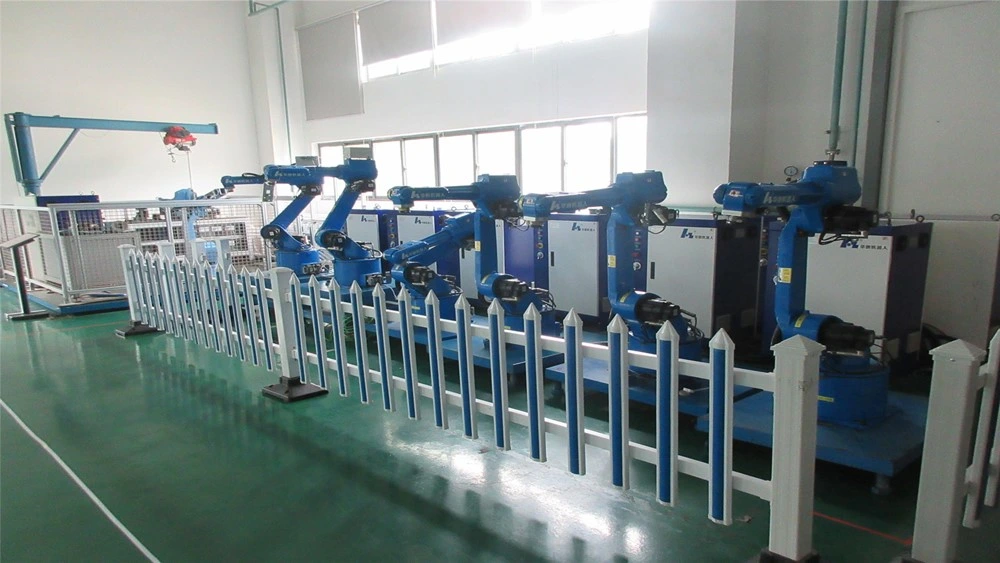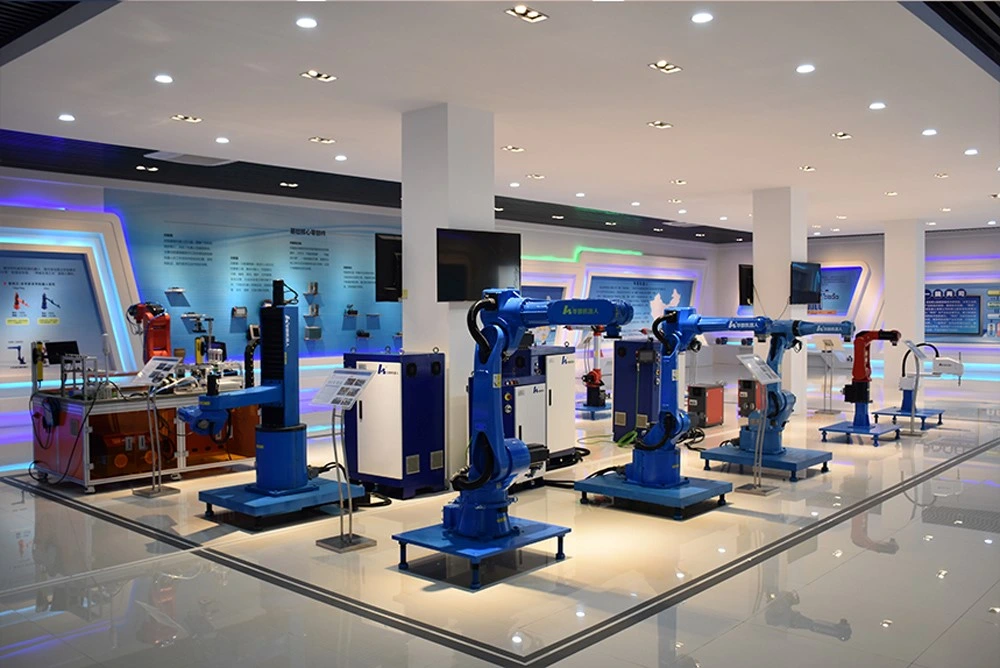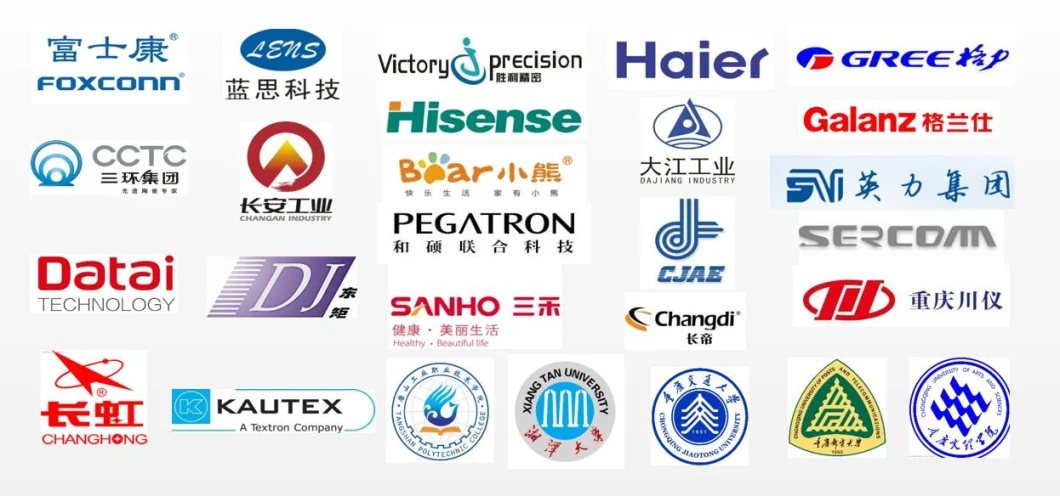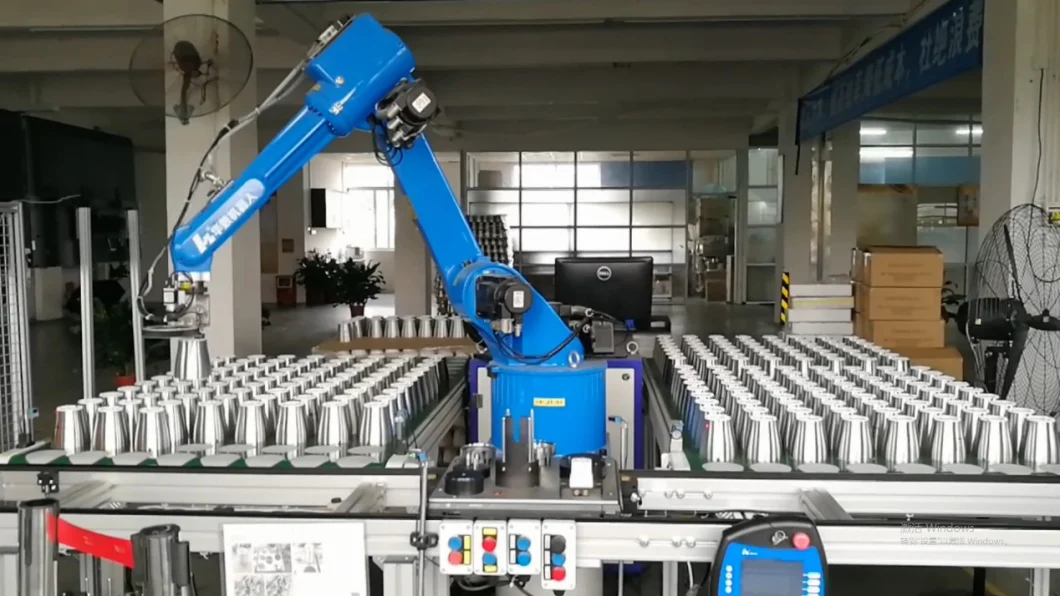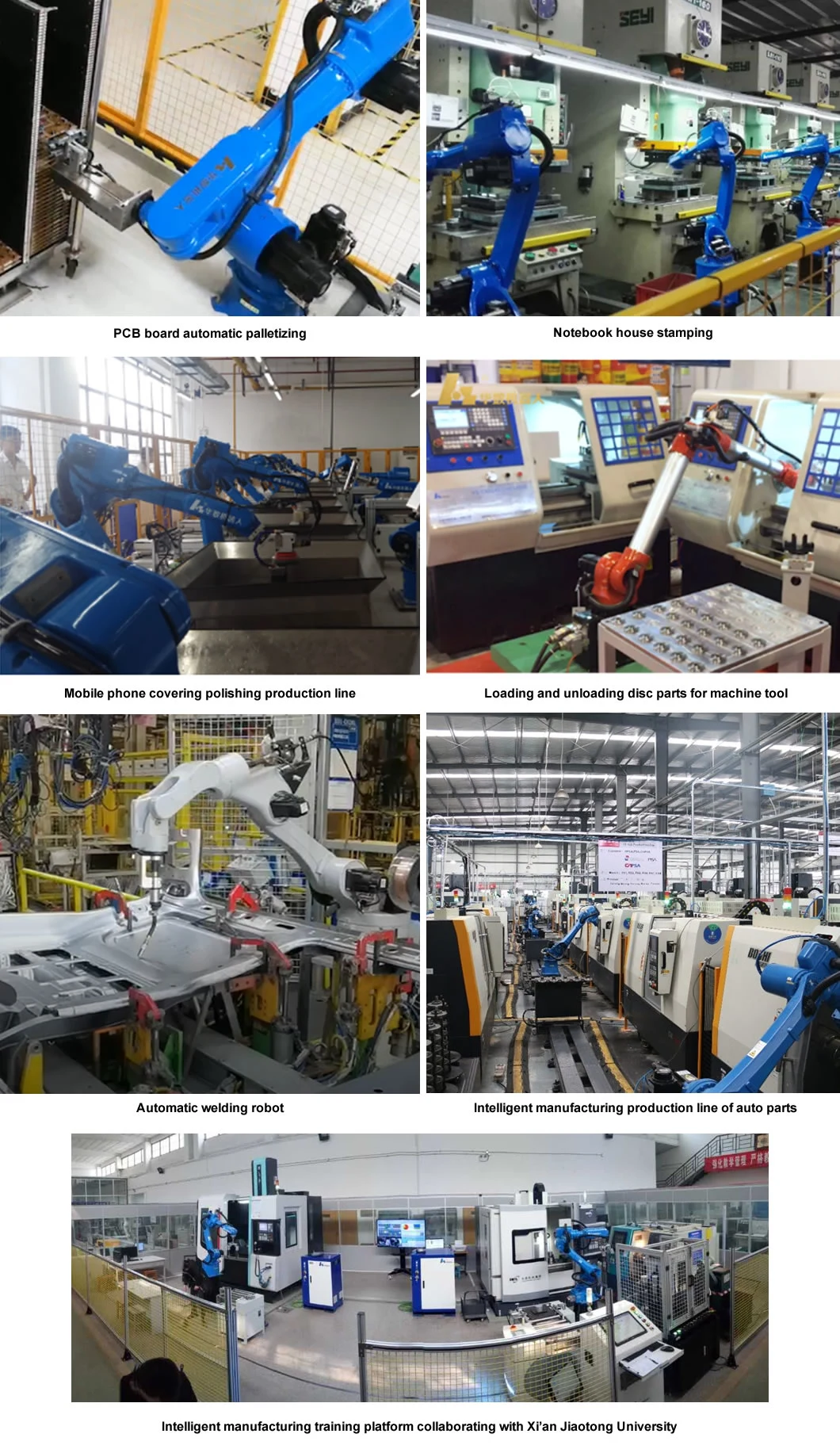 Q1:What's the material of your industrial robot?
A1:The material of industrial robot is composed by Cast iron and cast aluminum.

Q2: Your robot controller has input/ouput cababilities?
A2:Yes, our robot controller has input/ouput cababilities.

Q3: How to make program for you industrial robot?
A3: There are two ways to make program for our robotic arm:
a. For easy travel motion, we can use the handheld teach pendent to make the program. I attach the document of the teach pendent so that you can know more about it.
b. For some complex motion, we can use the offline program software Interobot (developed by Huashu Robot), which can simulate the motion of the robot and make the programming easier.

Q4: What kind of industrial robot you have?
A4: We have industrial robot of 6 series with more than 40 models which can be used for picking up, welding, grinding and polishing, sorting, painting, injection applications, loading and unloading pieces for machine tool, etc.

Q5: What's the delivery time of you product?
A5: Our annual production capacity is 10,000 sets of robots. The concrete delivery period should be confirmed based on the number of orders.

Q6: Why choose Huashu Robot?
A6: Huashu Robot has more than 1500 technician dedicated in the research and development of its products. The core parts of industrial robot such as robotic controller, robot body, servo motor and servo drive are developed by ourselves, which can help our clients upgrade the system based on customers'needs. Besides of providing the robot, we can also give a complete solution, providing you with one-stop services.

Q7: Do you have collaborative robot?
A7: We already have collaborative robot which can remember the movement points by manually dragging the robotic arm, avoiding the complicated programming process. This collaborative robot can be used for medical treatment and welding application.