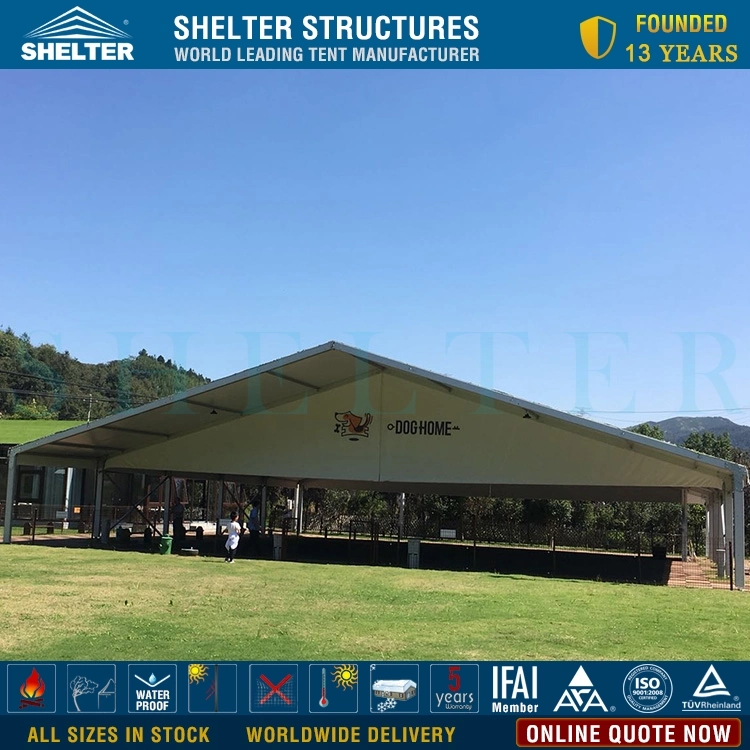 Factory Pop Up Tent For Events Trade Show Tent For 20x25m Size

Main Frame

Hardpressed Aluminum Alloy T6061/T6

Roof

850g/sqm white PVC Fabric

Sidewall

glass wall+PVC coated Fabric

Available Width

from 3m to 60m

Length

Unlimited

Sidewall Height

2.7m, 3m, 4m, 8m or customized

OEM/ODM

Available

Application

event, party, wedding, ceremony, etc



Main Feature of A-Frame Tent
1.Quick Installation
Modular/prefabricated design creates the structure easy in buildings, dismantling, and transportation.

2.All Sizes Available
SHELTER off span 3 to 60m (10 - 200ft) tent for any capacity and application.

3.All Roof Options
Classic A-frame, arch roof, thermo roof, "Heart" shape, and mixed party tent are allowed in SHELTER.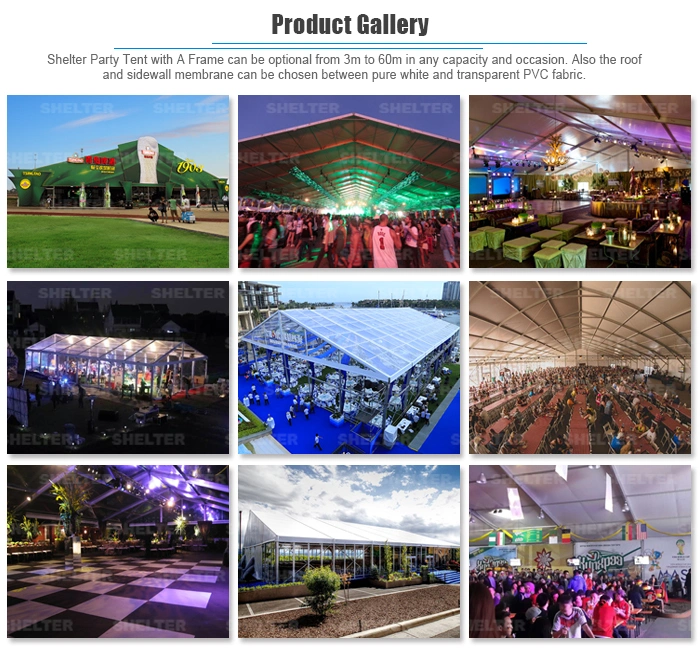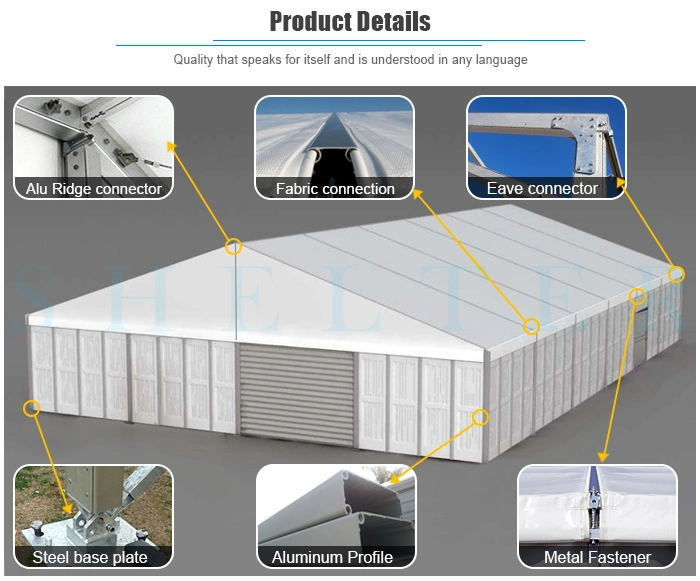 Material Of Reception & Catering Tent
Main Profile
Material
Hardpressed Extruded Aluminum Alloy 6061-T6
Available Size
84 x 48 x 3mm, 112 x 203 x 4mm, 166 x 88 x 3mm, 120 x 200 x 4mm, 120 x 250 x 4mm, 120 x 300 x 5mm, 120 x 350 x 6mm, 120 x 400 x 6mm (depend on the span size)
Hardness Quality
At Least 250 MPa
Features of Frame
Stainless, Lightweight, Durable, 4 Channel
Wind load
Up to 120km/h
Cover
Density
850g / sqm Block-out white PVC Tarpaulin, 950g / sqm transparent PVC Fabric; 650g/sqm White PVC for Sidewall
Thickness
≥0.67mm
Features
Best performances in breaking strength, water-proof, UV-proof, flame retardant (DIN4102 B1 M2 / NFPA701)
Component
Superior Enclosure with Hot Dip Galvanized Steel.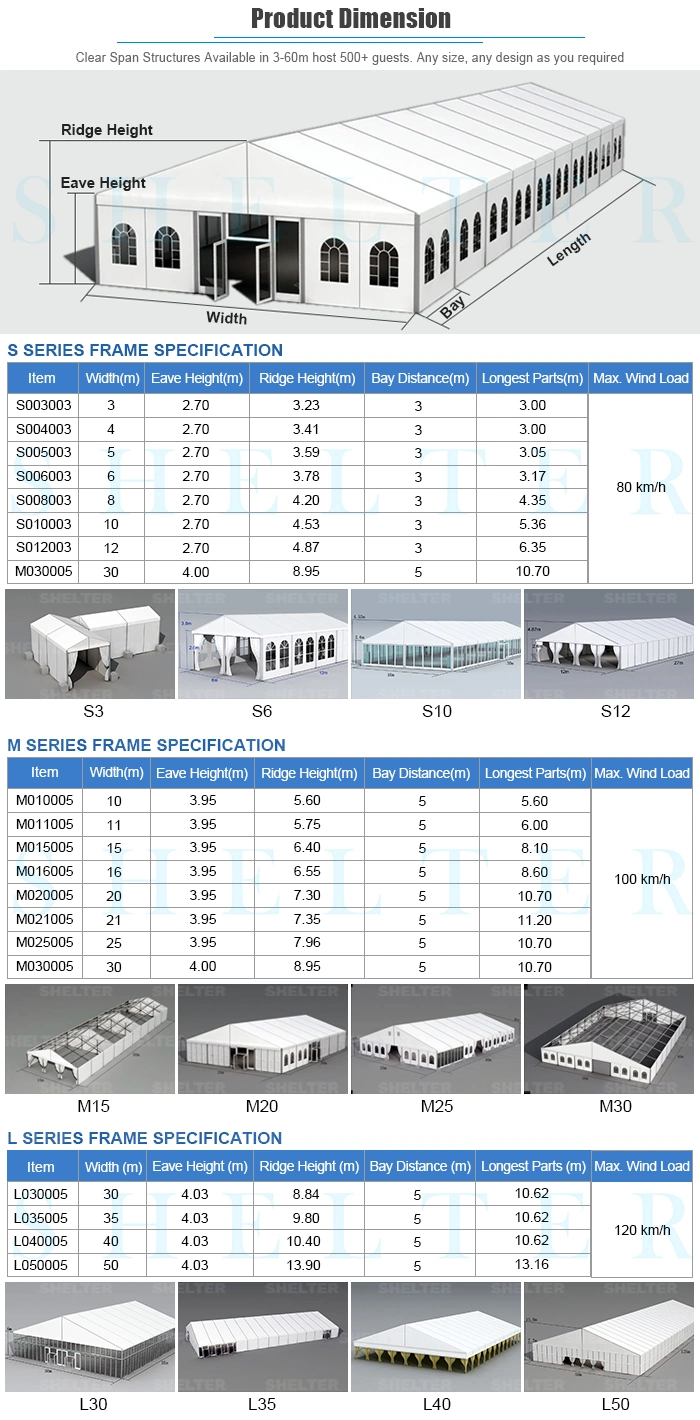 DIMENSION REFERENCE
This form is showing size options for your reference. Also, Shelter offers customized solutions for you. If you can not find a suitable dimension for your event, feel free to contact us!
Dimension
Size
(Width × Length)
Product Series
Round Table Only
Round Table & Dancing Floor
Buffet & Church Seat
100 sqm
(1076sq ft)
10 × 10 m
(32 × 32 ft)
S series
50 - 65 People
35 - 50 People
50 - 80 People
200 sqm
(2152sq ft)
10 × 20 m
(32 × 65 ft)
100 - 120 People
75 - 100 People
100 - 150 People
300 sqm
(3230sq ft)
15 × 20 m
(50 × 65 ft)
M series
150 - 180 People
115 - 150 People
250 - 300 People
400 sqm
(4305sq ft)
20 × 20 m
(65 × 65 ft)
200 - 250 People
150 - 200 People
400 - 500 People
500 sqm
(5382sq ft)
20 × 25 m
(65 × 82 ft)
250 - 315 People
200 - 250 People
400 - 500 People
600 sqm
(6458sq ft)
20 × 30 m
(65 × 100 ft)
315 - 375 People
250 - 300 People
500 - 600 People
700 sqm
(7534sq ft)
20 × 35 m
(65 × 115 ft)
375 - 435 People
300 - 350 People
600 - 700 People
800 sqm
(8611sq ft)
20 × 40 m
(65 × 130 ft)
435 - 500 People
350 - 400 People
700 - 800 People
900 sqm
(9687sq ft)
30 × 30 m
(100 × 100 ft)
500 - 560 People
400 - 450 People
800 - 900 People
1000 sqm
(10763sq ft)
25 × 40 m
(100 × 130 ft)
560 - 625 People
450 - 500 People
900 - 1000 People
1200 sqm
(12916sq ft)
30 × 40 m
(100 × 130 ft)
M series
&
L series
685 - 750 People
550 - 600 People
1100 - 1200 People
1500 sqm
(16145sq ft)
30 × 50 m
(100 × 164 ft)
875 - 935 People
700 - 750 People
1400 - 1500 People
2000 sqm
(21527sq ft)
40 × 50 m
(130 × 164 ft)
L series
1000 - 1250 People
770 - 1000 People
1800 - 2000 People
3000 sqm
(32291sq ft)
50 × 60 m
(164 × 200 ft)
1500 - 1800 People
1150 - 1500 People
2800 - 3000 People