YEMAG Customized Waterproof Balcony Roof gazebo garden pavilion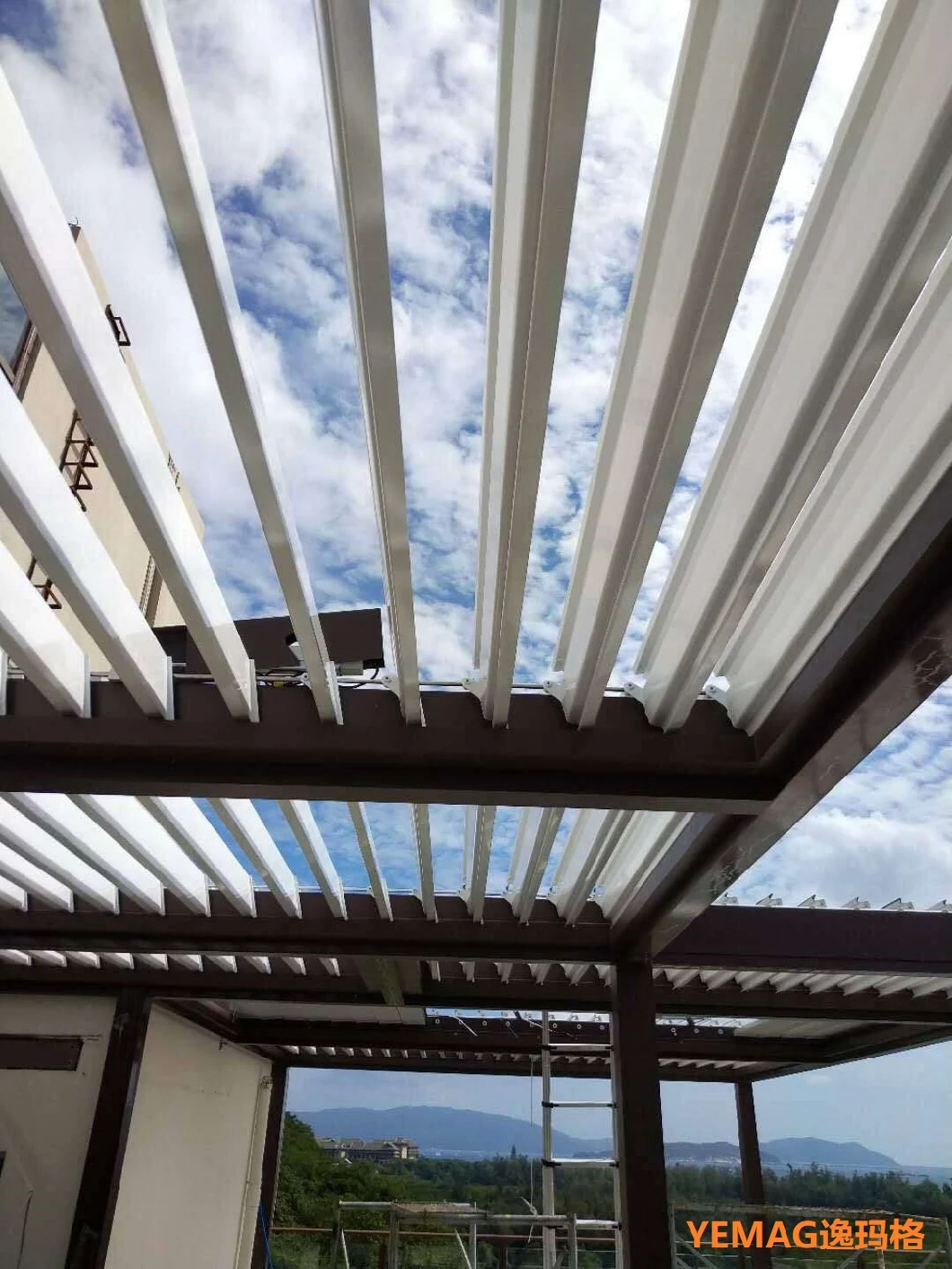 Product Discription:
Pergola LUX is YEMAG's latest design Aluminum Adjustable Shade Pergola System which boasts a modern and sleek look.
It's a combination between pergolas and horizontal louver roof which is completely made of aluminum and allows light and breeze when open.
Using an electric motor system and aluminum extrusions specially designed,the louver blades of the covered pergola are closed completely to prevent the sunlights and rain.The heavy-duty internal accessories ensure the wholes system to withstand severe climatic changes and
winds of up to 100Km/h. Side Screen, Linear Strip LED Lights and Heater are available.

How it work:
SPECIFICATIONS
Framework Main Beam
Extruded from 6063 Solid and Robust Aluminum Construction
Internal Guttering
Complete with Gutter and Rain Spout for Inbuilt PVC Down Pipe
Louvres Blade Size
202mm Aerofoil Available, Waterproof Effective Design
Pivot Bolt
Highly Durable Aluminum with PP Blade End Caps
Other Componentries
Heavy-duty Internal Fittings, Plastic Bush, SS Grade Stainless Steel Screws
Typical Finishes
Durable Powdercoated for Exterior Application
Colours Options
White or Grey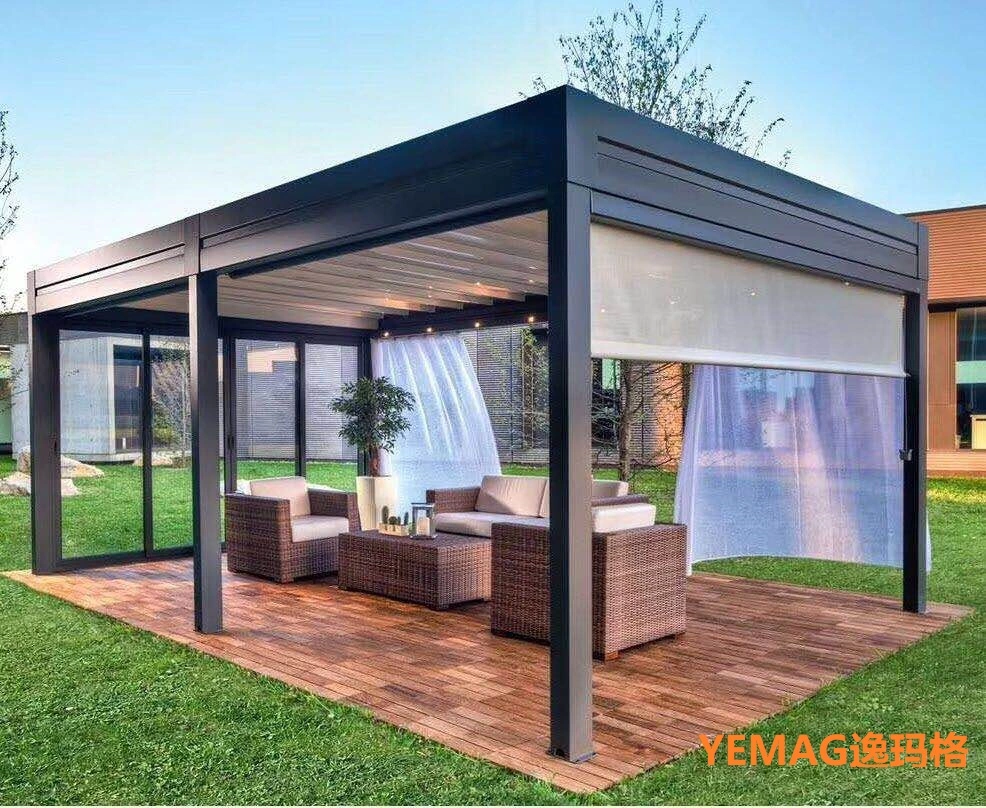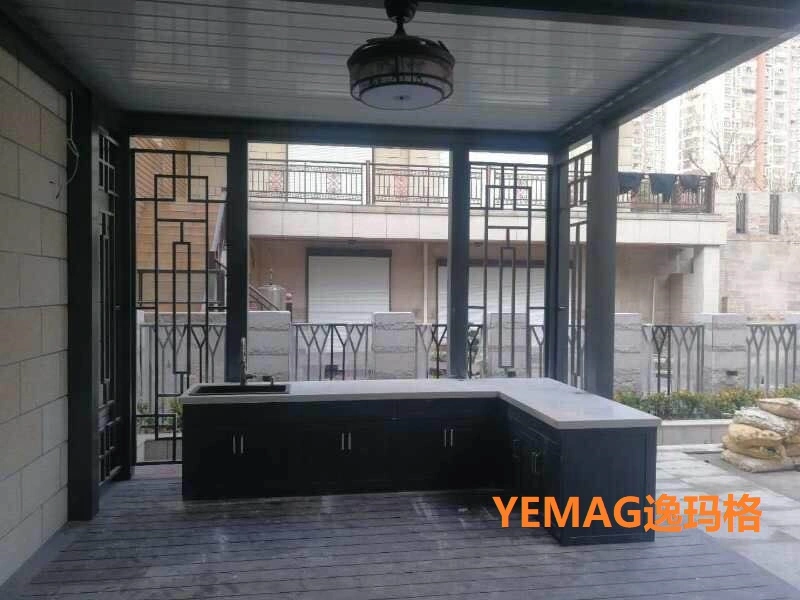 | | |
| --- | --- |
| Electric Motor | 110V or 230V |
| Thrust | 600N |
| Travel Distance | 300mm |
| Driving Speed | 4mm/s |
| Remote Control | 1 Channel to 5 Channel |
| Linear Strip LED | Yellow(3000K), White(4000K) |
| Maximum width of Side Screen | 5m |
| Maximum height of Side Screen | 3m |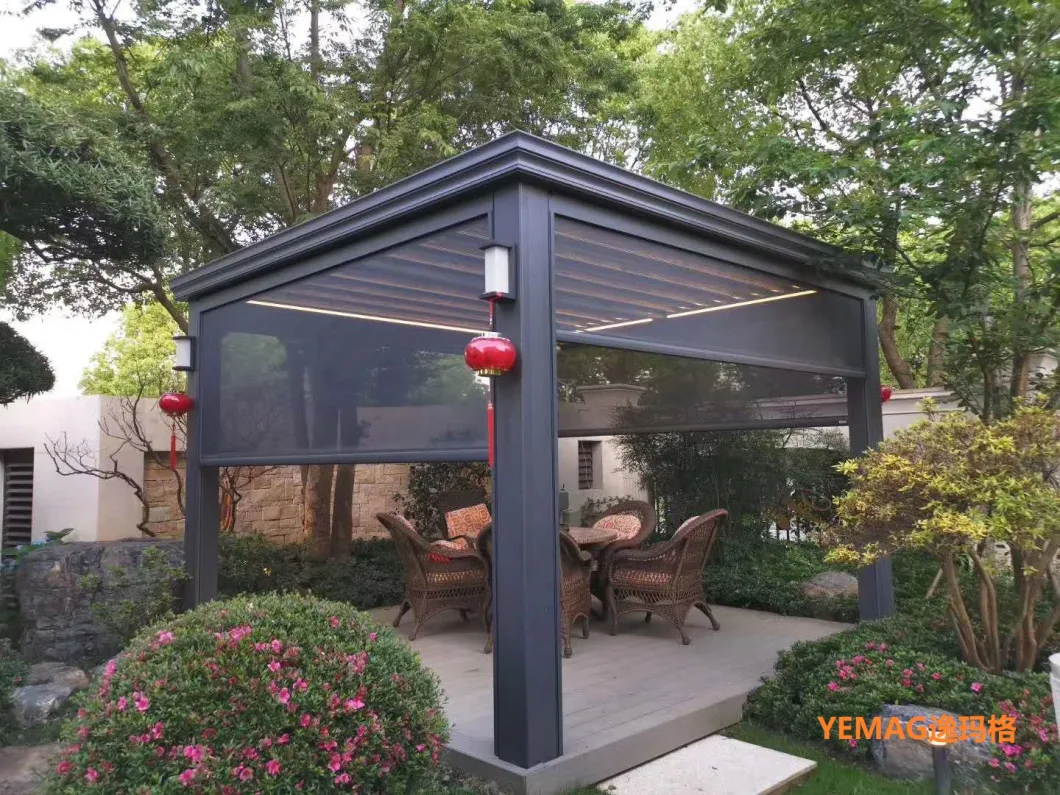 Company Introduction:Changsha EMG Construction and Decoration Materials Company
is a professional company dedicate in
Architectural Shading Solutions, Roller Doors, Window Protection Solutions for Hurricane and Security,
Building Facades, Window System, and
Customized Waterproof Balcony Roof Gazebo Garden Pavilion.
Founded in Shanghai January 2009, Shijiazan Smart Shading Limited Company(Shijiazan) is a key components and solution provider for manufacturers of solar shading products including control systems, shading fabrics, metallic spares, and floor carpet. To provide professional and dedicate services to our worldwide customers, Shijiazan take the new brand of YEMAG® and take the company as Changsha EMG Construction and Decoration Materials Company.
EMG dedicates on providing spares and professional solutions for manufacturers and contractors from
windows/façade/shutters industry. We provide CDK(complete knock-down) and Ready to Installation solutions per our customers business for a minimum local labour works.