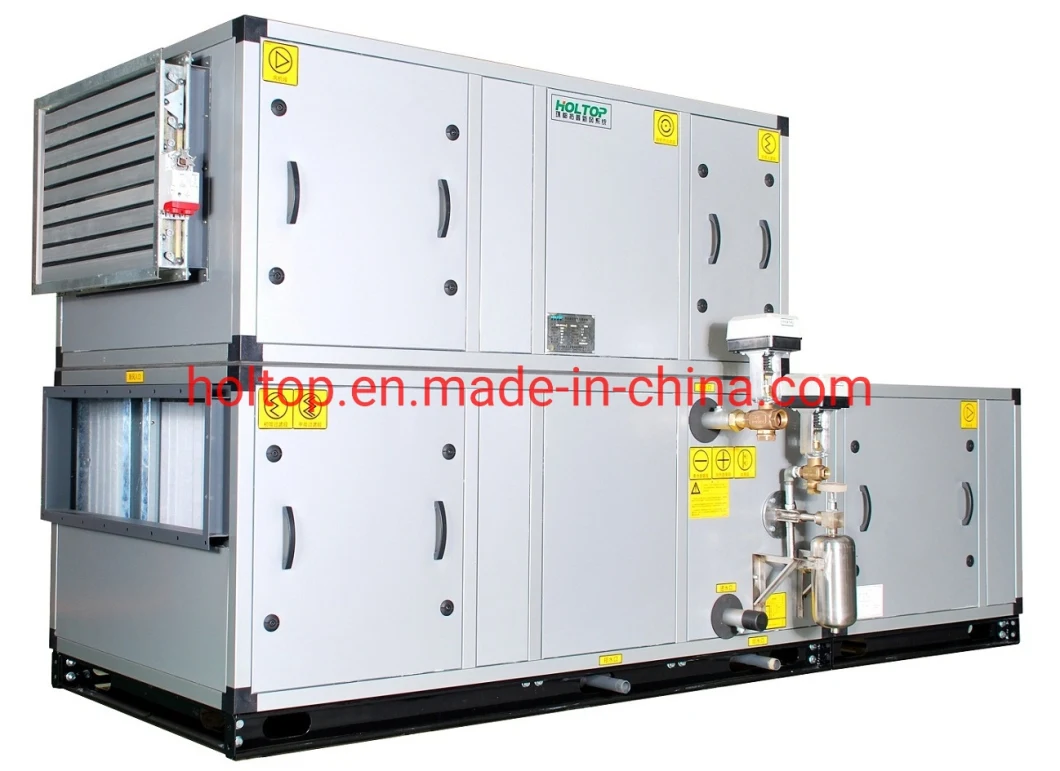 Air Handling Units Working principle
1, Both supply fan and exhaust fan are built inside to bring in fresh air and exhaust out the stale indoor Air as well, thus to keep indoor space in natural Comfort.
2, Built-in heat exchanger (rotary heat exchanger or Plate heat exchanger) transfers energy contained in The outgoing indoor air to the coming fresh air, Thus fresh air is precooled or preheated.
3, Various functional sections such as filter section, Cooling/heating section, humidifying section etc.
Can be combined together to meet different air Treatment requirements.
Function sections:
OA section + filter section + heat recovery section + humidifier section + coil section + supply fan section + RA section + heat recovery section + EA fan section
Features:
HJK series AHU features:
1, Modularization cabinet design, module dimension: 102mm, the total size will be decided by the quantity of modules.
2, According to different requirements from customer, panels are categorized into 25mm, 40mm and 50mm three product series. Double panel design, insulation is PU foaming material.
3, Adopt high corrosion resistance coating color panel, and Z14 galvanized steel panel, ensures long life.
4, Both inside and outside of frame of AHU is equipped with high efficiency cold break layer.
5, Up-down layer construction, concise, compact.
6, Easy to install and disassembly, each individual panel can be separated.
7, Adopt double-layer mosaic structure, ensures the tight connection between panel and frame, total unit air system leakage ratio is lower than 1%
8, Unit can afford 2, 000 PA pressure, more suitable for big air flow combination AHU.