DX Purification Type Heat Recovery
Air
Handling
Units
As essences of Holtop AHU core technology, DX coil AHU provides both AHU and outdoor condensing unit. It
'
s a flexible and typical solution for all building area, such as Mall, Office, Cinema, School etc.
Indoor Unit Outdoor Unit



| | |
| --- | --- |
| Product name | DX Purification Type Heat Recovery Air Handling Units |
| Material | |
| Function | Heat recovery,adjust cold/heat/humidity |
| Application | Factory,Mall,Restrant, Hotel,Hospital, School,etc |
| Filter class | |
| Place of origin | |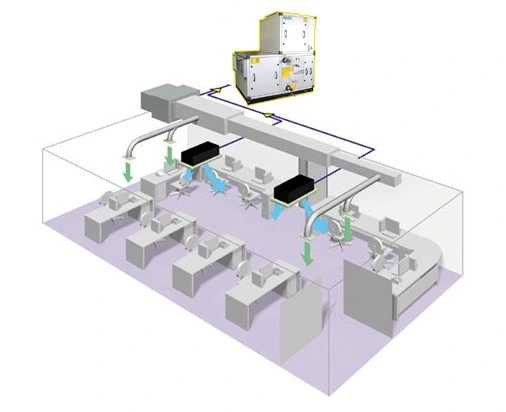 Selection Table of AHU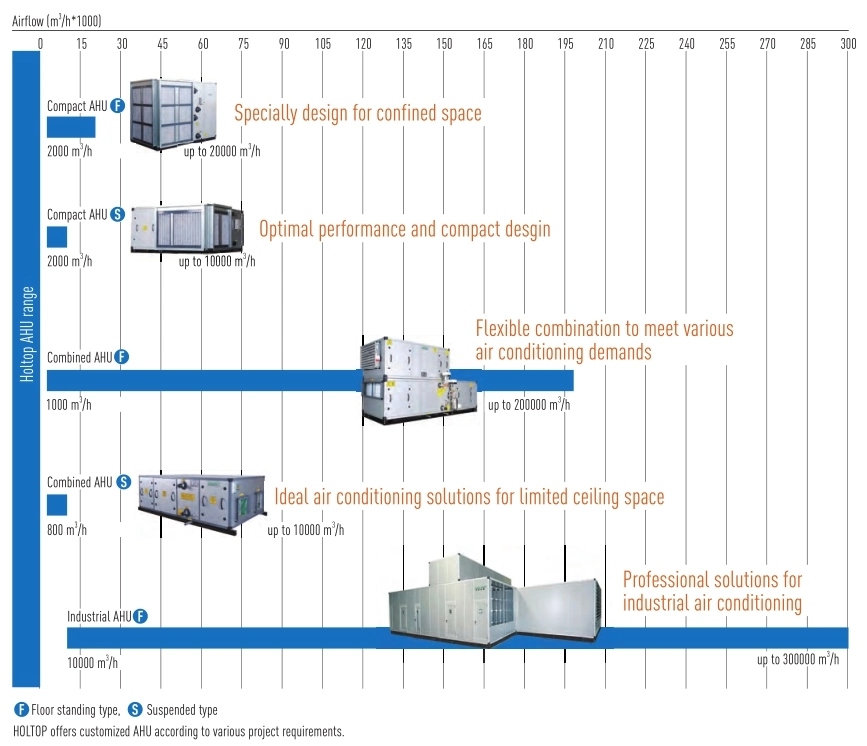 1/Both supply fan and exhaust fan are built inside tobring in fresh air and exhaust out the stale indoor air as well, thus to keep indoor space in natural comfort.
2/Built-in heat exchanger (rotary heat exchanger or plate heat exchanger) transfers energy contained in the outgoing indoor air to the coming fresh air,thus fresh air is precooled or preheated.
3/Various functional sections such as filter section,cooling/heating section, humidifying section etc.can be combined together to meet different air treatment requirements.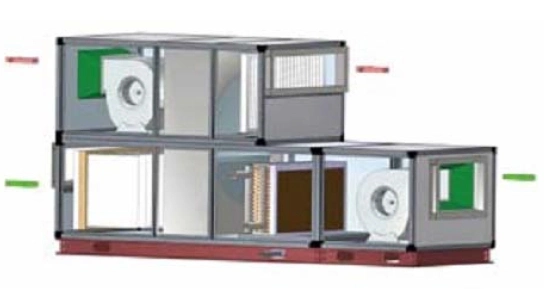 Judging left or right type
Look at the direction of airflow supplied to indoor, it's left type if water pipes are located on the left side of the unit; otherwise, it's a right type. For standard AHU, service door, wiring port and water pipe locate on the same side.

1/ Up-down layer construction, concise, compact.
2/ Rotary heat exchanger(RHE) as a basic part. Humidifying section, coil section etc. selectable as per requirements.


Typical Combinations
Combination mode 1:
Wheel + Coarse filter (medium filter) + Cooling coil (heating coil)+ Humidification + Fan
Combination mode 2:
Plate heat exchanger + Coarse filter (medium filter) + Mixed air +Cooling coil (heating coil) + Fan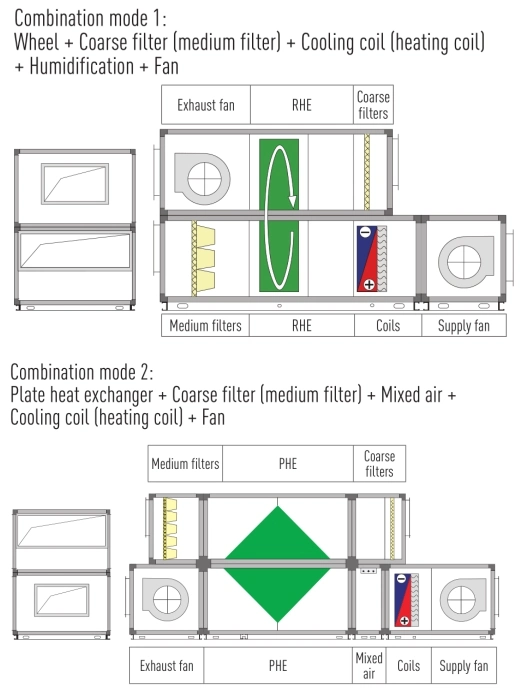 Rotary heat exchanger (heat recovery wheel) is mainly used in building ventilation or in the air supply/discharge system of air conditioning equipment. The wheel transfers the energy (cold or heat) contained in exhaust air to the fresh air supplied to indoor.It's a piece of important equipment and a key technology in the field of construction energy saving.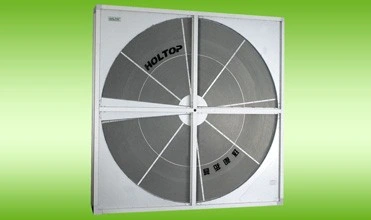 Rotary heat exchanger section
1. Rotary heat exchanger is composed of heat rotor(wheel), frame, drive system, double purge sector and sealing parts etc..
2. Supply air(SA) passes through half of the wheel, exhaust air(EA) passes through reversely the rest half of the wheel, meanwhile the wheel is rotating driven be the drive system. Thus, the wheel can be self-cleaning.
3. Drain pan is equipped under the wheel, in case condensed water occurs from fresh air in summer or return air in winter when their temperature is decreasing. Meanwhile, make sure the drainpipe is expedite and waterseal is installed.
4. Ice jam might occur on the exhaust side when operating in very cold area, if so, rotary speed reduction or turn-on of bypass is required to ensure safe operation of the wheel.
5. On some occasions with strict cleanness requirement, to minimize the carryover from return air to supply air, exhaust fan shall be placed in the leaving section of the exhaust side to create passive pressure, and the pressure shall be lower than that of supply side, so that the double purge sector can perform more effectively.
6. For easy transportation or easy installation in limit space, the wheel can be cut into segments.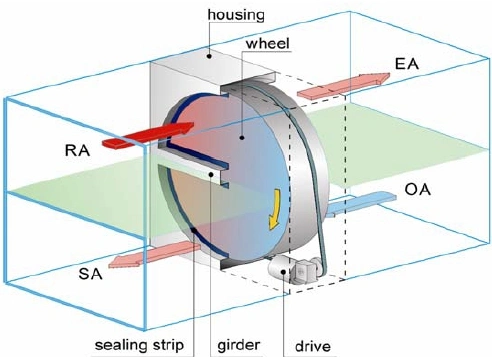 We offer different types of fans such as direct driven centrifugal fan, belt driven DIDW forward centrifugal fan, and belt driven DIDW backward centrifugal fan etc.